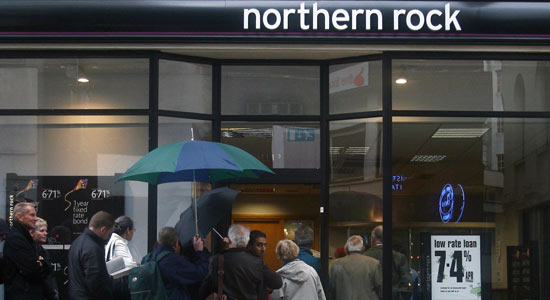 Customers queue in the rain, outside a branch of Northern Rock Building Society, in Birmingham, England Monday. (Simon Dawson/The Associated Press)
A rush to cash out of Northern Rock
Monday, September 17, 2007
LONDON:
Terry Mays and his wife, both British retirees, decided during the weekend that a promise by the Bank of England to provide emergency financing for Northern Rock, the troubled British mortgage lender that has most of their savings, was not sufficient to calm their nerves.
The couple joined hundreds of other Northern Rock customers Monday as lines formed for a third day in front of branches where people waited to withdraw their savings.
"I don't think the bank will collapse - but we just don't have the nerves," he said, surrounded by a group of depositors who had traveled with him to the central London branch from a southern one after being told that the wait there would be at least six hours. "I took some financial advice over the weekend, and I'm taking the money out to get peace of mind. We're relying on this money for our pension."
Panicky customers have withdrawn an estimated £2 billion, or $4 billion, since the bank acknowledged Friday that it no longer could raise funds because of the credit crunch that has squeezed global markets following a meltdown in the market for subprime loans in the United States.
Unlike other banks that have been bailed out because of direct exposure to subprime mortgages, Northern Rock was the first to directly fall victim to the global credit squeeze, because it relied heavily on raising funds in the capital markets.
Shares in Northern Rock slumped 33 percent Monday to a seven-year low, dragging European banking stocks lower across the board as jittery investors began scrutinizing banks to determine which ones might have a similar business model.
Alliance & Leicester and Bradford & Bingley, two Northern Rock rivals that also tap the capital markets for funding, fell 18 percent and 8 percent respectively Monday. Major financial institutions, including HSBC Holdings, Société Générale of France and Deutsche Bank of Germany also declined, leading a 1.3 percent drop of the European Dow Jones Stoxx 600 index. The FTSE 100 in Britain fell 1.2 percent, and the CAC in France fell 1.6 percent.
Northern's woes ricocheted back to the United States, where Citigroup fell 71 cents, or 1.5 percent, to $45.93 in afternoon trading. The S&P 500 fell 0.56 percent.
The overnight rate British banks charge to lend pounds to one another soared 60 basis points to 6.47 percent Monday, the highest level in more than a month, according to the British Bankers' Association.
Citigroup, Credit Suisse and Merrill Lynch cut their earnings estimates for several European banks Monday, including Northern Rock. Credit Suisse and Merrill said the bank was likely to be bought.
"We think the game is over for Northern Rock in its present form," a Merrill analyst, John-Paul Crutchley, wrote in a note to investors.
The specter of hundreds of Britons lining up to make withdrawals after the unexpected and speedy decline of Northern Rock has also sparked a raft of questions about whether the robust British economy - supported in large part by a heated housing market - would suffer in the aftermath of the subprime mortgage crisis in the United States. The pound fell below $2 for the first time in nearly three weeks.
Some economists said that the Northern Rock experience could dent consumer confidence and eventually have an effect on British economic growth. Members of Britain's opposition Conservative party Monday blamed Prime Minister Gordon Brown for ignoring warnings of a "looming debt crisis" for the past four years and for encouraging consumers to take on record debt when he was chancellor of the Exchequer during this period.
In recent years, British mortgage lenders began offering loans exceeding the value of the properties on which they were based. The easy availability of credit helped prop up property prices and fueled speculation in the real estate market.
Mervyn King, the head of the Bank of England, also came under pressure to explain why the bank bailed out Northern Rock only days after refusing to inject liquidity into cash-starved financial markets on the basis that such action encouraged "excessive risk-taking."
So far, assurances from the Northern Rock chief executive, Adam Applegarth, and the chancellor of the Exchequer, Alistair Darling, that deposits were securely backed by the Bank of England, have failed to impress depositors. In a bid to shore up confidence, Darling announced Monday that the government would guarantee all deposits in Northern Rock even if the bank should collapse and would extend similar guarantees to any other troubled financial institution that approached the government. No other bank or institution had yet approached the Bank of England, he added.
Some of those waiting in line to retrieve their savings Monday blamed what they called lax standards at both U.S. and British mortgage lenders for the shortage of funds at Northern Rock.
"We had to go through a lengthy process to get a mortgage that was barely more than we earned, and now my son's girlfriend can get double that with hardly any income," said one customer, who declined to give his name but said he planned to withdraw his entire savings of more than £100,000. "That's just not right."
Northern Rock opened at 8 a.m. Monday, one hour earlier than usual, to deal with the expected wave of withdrawals. It had to increase the bandwidth on its Web site, which had struggled with the volume of people trying to access it.
Patricia Carlton, a retiree who joined the line at noon Monday at a Northern Rock branch in London, said she decided to withdraw her money after watching the morning news and seeing new lines forming at the bank branches.
"I hate to take out the money, but I just don't want to risk anything," she said, adding that she did not yet know what she would do with it.
Troubles at Northern Rock filled the top headlines in the British press, further spreading nervousness. The BBC wrote on its Web site that clients were besieging branches, while The Evening Standard said that savers had pushed the bank to the "brink of extinction."
"People are mortified and if savers are continuing to withdraw funds, a sale or split up becomes more likely," said Christine Ross, head of financial planning at SG Hambros in London. Large clearing banks like Lloyds, Barclays, HSBC Holdings and Royal Bank of Scotland might profit by scooping up former Northern Rock customers, she said.
Jonathan Pierce, a banking analyst at Credit Suisse in London, said that the most likely scenario for Northern Rock was a sale to another bank either "as a business or division of assets." Yet, the difficulties have "severely dented" the brand, he said.
Some customers, including Mays, wished they had the nerves to keep some savings with Northern Rock and wait for the bank to be bought. "There was speculation that whoever buys it could offer incentives for customers to leave their money in there," Mays said. "But the thing is, you just don't know."
Copyright © 2008 The International Herald Tribune | www.iht.com