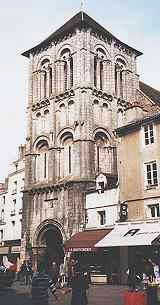 Saint Porchaire church :
Saint Porchaire is located in the heart of Poitiers commercial district.

It has an XIth century tower, built over a porch dating from 950. Initially the tower was planned to have another level, whence its stocky shape. The church housed the grave of Saint Porchaire, who was Saint-Hilaire's abbot in Merovingian times. Saint Porchaire remains were removed and scattered in 1792 during the French Revolution.

The church itself is of gothic style. It was built between 1508 and 1520. It has a double nave and apsidal chapels, an architecture fit to accommodate numerous faithful.

Courses :